15 Top Quality Food Delivery Apps in 2022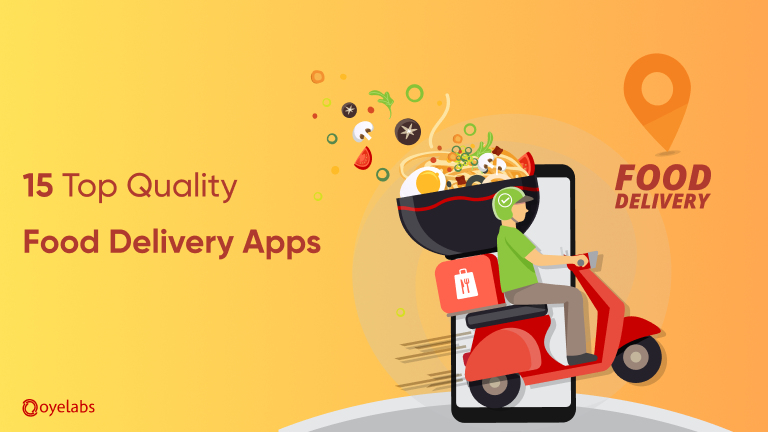 15 Top Quality Food Delivery Apps in 2022
Last Updated on July 12, 2022
Cooking can be a challenge for many people who do not have any idea about it. So going out to eat or ordering food is the best solution. Here come the food delivery app businesses with all the options to choose from and enjoy in the comfort of home.
Digitalization has been spreading its effects on every business sector. Food delivery service is not left out of its reach as well. The last two decades have observed the rise of online food delivery apps across the world.
Food delivery services have been evolving throughout recent years. But the flexibility to order from anywhere and enjoy the meal at home through an app has given a boost to it. Covid-19 has also contributed to the recent growth of food service apps.
Food is an essential part of our life and craving for specific food items at times can be difficult to dodge. These apps helped us to mitigate the issue by providing top-quality food and to be delivered to your preferred location. 
Food delivery apps not only give the customers the flexibility in selecting from a vast menu but also provides the rating of each restaurant and its recipes. One can share his/her experience in front of the other users as a review.
This blog will help you to identify the top-ranked food delivery apps across the globe. 
15 Top Tier Food Delivery Apps in 2022
Here is a division of these apps based on their popularity in countries:
US:

GrubHub, UberEats, Doordash, Postmates, Caviar, goPuff, Chownow, Delivery.com
Asian countries (Excluding India):

Foodpanda

India:

Swiggy, Zomato

Middle East countries:

Talabat

Spain and Central American countries:

Glovo 
These apps are ranking at the top in recent times. The specialty of these apps is that they are not limiting their reach to just 1 or 2 cities. Best quality food and delivery service are the main reason for the apps to be at the top.   
GrubHub is an online platform for food ordering in the US. It is the giant in the food delivery field in the country. It has expanded its reach to over 4000 US cities and also London. 
The availability of the app on both android and IOS has made it closer to customers. 
GrubHub was founded in 2004

Has over 3,20,00 partnered restaurants

As of 2020, GrubHub has more than 31 million users
GrubHub is tasting more success due to its increased consumer base and partnered restaurants. Promotional tactics such as coupon rewards in case a customer spends a particular amount are also noteworthy in GrubHub's success.
Although Uber Eats is a late entrant in the food delivery service industry it has significantly gained popularity. The app is available in over 500 cities across 24 nations. 
Uber Eats is also available on both Android and IOS. 
Uber Eats was founded in 2014

Has almost 90,000 partnered restaurants

The app has more than 64.2 million downloads
Even after being late to enter the business field of food delivery service Uber Eats has made significant growth. The app provides clearly mentioned details, and feedback from other customers. It helps the potential customer in deciding. 
Related: Steps To Create An App Like UberEats
Doordash provides the customers the choice of ordering from local restaurants or even national ones. The app has the feature to let customers schedule their delivery. Monitoring the delivery is also possible through the app.
Doordash is available in both IOS and android therefore it provides easy access to customers
Doordash was founded in 2013

The app is working in over 800 cities and has a huge number of partnered restaurants

As of 2021, Doordash has over 20 million users
Operating in a huge number of cities has provided Doordash with variations in its business approach. Implementation of the feature "Yum Score" has given the consumers ease in deciding what to eat. 
Related Read: Guide To Make An App Like Doordash
The Just Eat app provides the users with the special option of placing orders for pick up. The company also lets restaurants have their own delivery agents. There are lots of varieties in its food categories such as vegetarian, no gluten, and even halal food.  
Just Eat is free to download on both IOS and android.
In 2001, Just Eat was founded

As per

Statista

,

the app has teamed up with over 5,00,000 restaurants across 24 countries

There are 60 million active users of Just Eat 
From providing different categories to choose from to allowing the restaurants to have their own delivery agent JustEat reflected improvisation in itself. 
Although Deliveroo is associated with grocery delivery it has made a name in the food delivery services as well. The company is operating in over 800 cities in 12 countries. It has domination over the European market. 
Deliveroo is available in both IOS and android.
The app was founded back in 2013

The app is linked with more than 1,60,000 restaurants

In 2021, deliveroo had 8 million active users
The app operates across 12 nations however the UK is its best marketplace. The pickup option provides the customer's flexibility and a good experience. Gain an understanding of building an app like Deliveroo.
Foodpanda is actively operating across more than 40 countries. The app is quite famous in the Philippines. Asia is the biggest market for Foodpanda.
Foodpanda is available in both IOS and android.
Foodpanda was launched in 2012

The app is associated with over 40,000 restaurants

The app has 31.8 million downloads
The app provides customers with features like wallet, order history, and multiple addresses. The app also has a tracking system for the orders to enable customers to monitor their foods. 
Swiggy is an Indian food delivery service-providing app. It is one of the best among the Indian as well as other international online food ordering apps. The app can be used across 500 cities in India.
Swiggy is available in both IOS and android. 
Swiggy was founded in 2014

The app has partnered with 1,40,000 restaurants 

At a time around 1,30,000 people are online in Swiggy
The app is quite simple yet useful. It shows ratings, reviews, charges, and other important information just by selecting the restaurant. The app also has categories such as appetizers, main dishes, and desserts. 
Zomato is also an India-based company but now it is actively operating across 25 countries. The app is famous for its promotional tactics on social media. The app not only provides food delivery but also suggests the best places to eat in case someone is planning to eat at a restaurant.
Zomato is available on both IOS and android platforms.
Zomato was founded in 2008

As of 2021, Zomato has 1.4 million restaurants associated with it

In 2021 Zomato has around 32 million monthly users
Zomato has earned a place among Indian customers' hearts due to its promotional approach and quality services. The app contains photos, directions, support, and authentic reviews. The Zomato Business Model is unique and engages users in the right way.
Talabat is a Kuwait-based online food ordering company. The app operates in 7 countries in the middle east. 
Talabat is present on both IOS and android platforms.
Talabat was launched in 2004

The app has over 10,000 restaurants as options

Talabat boasts over 2 million active users
The app has a clear and quite simple outlook. One can follow the ordered item till he receives it. Online payment is also supported by the app. Know how to build an app like Talabat.
Once upon a time, Glovo was available only in countries such as Morocco, Uganda, Nigeria, Ghana, and a few others. The app was operating in more than 40 cities across these countries. But now Glovo is active in 26 countries and 200 cities.
Glovo is present for both IOS and android.
Glovo is founded in 2015

The app is connected with more than 20,000 restaurants

Over 10 million users are active
After being launched in 2015 in Barcelona, Glovo has picked up pace in its growth. From African countries to modern western countries Glovo has emerged as a champion.
Related Read: Steps To Build An App Like Glovo
Postmates is a US-based food delivery app. The app is operating in more than 4200 cities across the US. There is a $10 monthly subscription for free delivery if one orders over $12.
Postmates is present on both IOS and android platforms.
Postmates was founded in 2011 (In 2020 Uber acquired it)

Over 6,00,000 restaurants are associated with it

Over 10 million active users
With the subscription plan, Postmates offers the best value to its consumers. Postmates also delivers grocery items. Check out the Postmates Business Model for greater insights.
Caviar is a US-based food delivery app. The startup is making progress through its approaches. Currently, it is active in 28 cities in the US. 
Caviar can be downloaded on both IOS and android.
Caviar was founded in 2012

Over 2,000 restaurants are available in the app

Caviar has over 30,000 active customers
Caviar has been effective in making progress. And for that their step of less focus on fast food can be complemented. 
GoPuff is an online food ordering app. The app is active in operations across 550 cities in the US. The parent company owns the items sold on the app.
GoPuff can be downloaded on both IOS and android.
GoPuff was founded in 2013

In 2022, GoPuff launched its own restaurant brand

The app has over 2.6 million active users
24/7 delivery is the plus point of the app. Customers are rewarded with reward points for every purchase.
Related Read: Guide To Make An App Like GoPuff
Chownow is a US-based online food ordering app. The app focuses on connecting local restaurants and customers. 
Chownow is downloadable for both IOS and android.
Chownow was launched in 2011

Around 20,000 restaurants are available to order from in the app

It has more than 7 million active users
Chownow has the transparency in its billing system and there are no hidden charges. The app provides lists of local restaurants and maps to them. 
Delivery.com is a platform that allows customers to order and receive food items at their preferred location or schedule a pickup. The app operates in more than 2400 cities. 
The app of Delivery.com can be downloaded for both IOS and android. 
Delivery.com was founded in 1995

More than 19,000 merchants are associated with it

The app boasts of more than 3 million users
It is one of the longest-running food delivery service platforms. But the implications of features such as group order are significant. 
Launch Your Food Delivery App in 2 weeks
With Customized On-Demand Solutions by OyeLabs
Key features to include in a food delivery app
All these apps provide luring features and services. However, there is always a scope for development. 
Wallet System:

In order to make an app effective and engaging service providers can include the wallet system. It can make the refunding and rewarding so much easier. Although this feature is present in many apps newcomers tend to avoid it.

Premium Plans:

Selecting the premium plans and their cost can be effective in user engagement. A lower-priced plan with key features and discounts can attract new customers.

Contact Details:

Providing the contact details of the delivery agent is also a necessity these days and therefore it needs to be included.

Tracker: A tracking

 system for the placed order is also preferred by customers. So, including it is also a smart move towards growth. 
Food delivery industry trends in 2022
In 2022 the food delivery industry is growing at a rapid speed. Trends are acting as its boosters therefore a closer look at those trends can help any company grow.
Hiring third-party delivery partners:

Due to high demand any restaurant cannot keep up only with its own delivery agents. Therefore to increase customer satisfaction third-party delivery partners are welcomed in the industry. 
Utilization of apps:

Apps are convenient to use and provide a huge number of perks to customers. For example, order tracking, payment, and rating or review can be named. Restaurants are associating with these apps and taking advantage of their delivery services. 
Subscription mode:

Food delivery apps provide big discounts and rewards for their premium customers. In order to be a premium customer, people need to subscribe to the premium version of the apps. 
Machine-driven delivery:

In recent times machine-driven delivery is observed throughout the US. Drones are used as delivery agents. 
Eco-friendly mode:

People are now quite active in protecting the environment hence eco-friendly delivery is gaining attention. Delivering food items using electric vehicles or bicycles is getting praised.
The Bottom Line
Digitalization has provided mankind with ample scopes of development. So, the expectations are also sky-high. An app is present for every activity. 
Food delivery apps are taking over the food sector. It provides the customer's menus with all available dishes only and provides the flexibility of ordering anytime and delivering at the doorstep by sharing the location. 
Location sharing can be an issue faced by customers. An app can detect the location with the GPS system of the device easily in less time. 
An app with key features is always going to attract customers. Food delivery services can gain more benefits by teaming up with other brands and providing special discounts to consumers on buying specific food items. Due to it both parties can earn more than in the traditional manner.
Apps are able to provide push notifications. So, has the possibility to lure the customer in surfing the app and order something while doing that. Therefore the chances of sales go high. The food delivery app market is hot and it is the right time to enter this market. But as you see the level of competition, it is important to have your app and it should have its own USP to stand out from the crowd.
Frequently Asked Questions About Food Delivery Apps (FAQs)
Que. How to develop an app with the same features such as Doordash?
Ans. Doordash is quite up to date in its specifications and features. Therefore one needs to calculate and set a budget for updates and upgrades after analyzing the app creation costs. Once the costs are decided one needs to hire app developers and provide them specifications required in the app.
Que. How do restaurants form partnerships with food delivery apps?
Ans. Restaurants need to contact the service providers through mail or any other medium available on the official platform. After that an official contacts the restaurant. Then plans a meeting with the owner. In the meeting, a discussion is on the expectation of the owner, charges of the service provider, and other important things. After that documentation is required and within a week after the verification of the documents the restaurant is ready to go online with the app.